Palisades Branch Public Library
861 Alma Real Drive, Pacific Palisades, CA 90272
(310) 459-2754 telephone

Currently closed due to Covid-19
Library Hours:
Mon: 10:00 AM - 8:00 PM
Tues: 12:00 PM - 8:00 PM
Weds: 10:00 AM - 8:00 PM
Thurs: 12:00 PM - 8:00 PM
Fri: 9:30 AM - 5:30 PM
Sat: 9:30 AM - 5:30 PM
Sun: Closed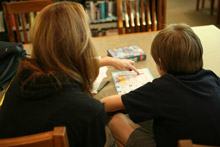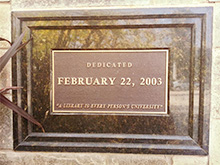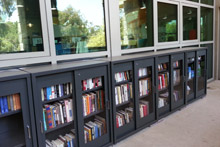 Volunteer
If you would like to volunteer for any of the following positions please email friends@friendsofpalilibrary.org or call (310) 962-8313.
Receiving Book Donations
We receive donations of gently used books, CDs and DVDs on Tuesdays and Thursdays between 12:30 p.m. – 5:00 p.m. There are two shifts per day. Volunteers determine the appropriateness of donations and provide receipts to our donors. Note: Volunteers for this position must be able to comfortably lift and move a box of books.
Patio Book Store
Our bookstore, located on the library's back patio, is open six days a week and is an important revenue stream for the Friends. Volunteers typically work two-hour shifts. Volunteers assist customers, help shelve books and manage a cashbox.
Palisades Reads
This community-wide book club was launched in 2019 and is currently in the process of selecting a book and developing programming for 2020. This is a great opportunity to get involved in a program from the ground up.