Palisades Branch Public Library
861 Alma Real Drive, Pacific Palisades, CA 90272
(310) 459-2754 telephone

Currently closed due to Covid-19
Library Hours:
Mon: 10:00 AM - 8:00 PM
Tues: 12:00 PM - 8:00 PM
Weds: 10:00 AM - 8:00 PM
Thurs: 12:00 PM - 8:00 PM
Fri: 9:30 AM - 5:30 PM
Sat: 9:30 AM - 5:30 PM
Sun: Closed

Los Angeles Public Library Palisades Branch website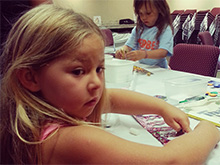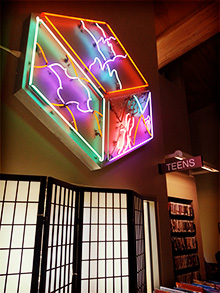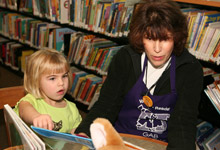 Library Programs
Upcoming Library Programs:
The mission of Palisades Reads, an annual literary event sponsored by the Friends of the Library, is to foster connections, spark conversations, and celebrate the power of books to cultivate empathy.
Thank you,
Laura Diamond, Corinne Bourdeau, Gloria Nakamura and Laura Schneider
Children's Summer Creative Writing Contest 2020
Theme: Surprise Us!
CONGRATULATIONS TO THE WINNERS OF THE 2020 CONTEST.
Here is a link to read the winning stories.
https://friendsofpalilibrary.org/DDM/cache/contest-winners
View the actors' readings of the stories here.
https://youtube.com/user/PPLAWritingContest
---

Ongoing Library Programs:
BABY AND TODDLER STORYTIME Due to the structure of this storytime, please show courtesy by being on time! Lap-sit (or not!) storytime for babies and toddlers and their grown-ups to share together. One child, one lap, please. For ages under 36 months.

FAMILY STORYTIME Suggested for ages 3 and up. Stories, fingerplays, rhymes: building reading skills while having fun!
MINDFULNESS MEDITATION Wednesdays from 6:00-6:30 p.m. starting June 26. We invite you to enjoy a pause in the day to refresh yourself by simply sitting and paying attention to your senses, thoughts and feelings. Learn about Mindfulness and how it may relieve stress in your life. Stay for 5 minutes or the entire 30-minute session. Presented by Natalie Bell, Mindful Wellness consultant.
MOVIES are shown at the Library on Saturdays twice a month at 1:00 p.m. Light refreshments will be provided. Please bring a sweater or jacket as the room can be cool!
ALL EVENTS ARE FREE TO THE PUBLIC. ADA ACCOMODATIONS UPON REQUEST. FOR MORE INFORMATION CALL 310-459-2754.
Please click on the link to the Los Angeles Public Library Palisades Branch website for upcoming library programs:

http://www.lapl.org/branches/Branch.php?bID=15