Palisades Branch Public Library
861 Alma Real Drive, Pacific Palisades, CA 90272
(310) 459-2754 telephone

Currently closed due to Covid-19
Library Hours:
Mon: 10:00 AM - 8:00 PM
Tues: 12:00 PM - 8:00 PM
Weds: 10:00 AM - 8:00 PM
Thurs: 12:00 PM - 8:00 PM
Fri: 9:30 AM - 5:30 PM
Sat: 9:30 AM - 5:30 PM
Sun: Closed

Los Angeles Public Library Palisades Branch website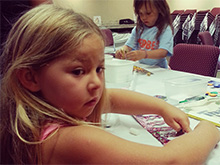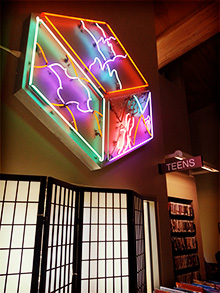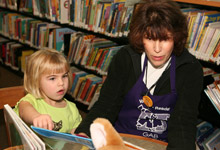 Library Programs
Upcoming Library Programs:
Children's Summer Creative Writing Contest 2020
Theme: Surprise Us!
CONTESTANTS, THANK YOU FOR ENTERING! YOU WILL RECEIVE AN EMAIL WITH DETAILS ON THE AWARDS CEREMONY DATE AND TIME.
The Friend of the Palisades Library is excited to offer a virtual contest this summer. The theme is Surprise Us! The theme can be interpreted in different ways, for example, a story that surprises the reader in some way or a story that has a surprise in it.
There are five categories: 1st & 2nd grade, 3rd & 4th grade, 5th & 6th grade, 7th & 8th grade, and high school (the grades that students will enter in the fall). The contest is open to Los Angeles residents or those who attend school in Los Angeles.
Prizes are given in each category. The prizes are gift certificates to Diesel Bookstore, Brentwood (can be redeemed online). First place $250, 2nd place $100, and 3rd place $50.
The awards ceremony will be held in the fall on Zoom. At the awards ceremony the winning stories are performed by actors. We look forward to reading your work. Good luck!
Palisades Reads 2020
The mission of Palisades Reads, an annual literary event sponsored by the Friends of the Library, is to foster connections, spark conversations, and celebrate the power of books to cultivate empathy.
In these times of isolation and contemplation, this mission is more vital and relevant than ever. As we plan a "virtual" Palisades Reads for Fall 2020, our committee is in the process of selecting a literary work that will challenge and inspire us, and will announce the chosen book in the coming weeks.
We welcome your input.
Thank you,
Laura Diamond, Corinne Bourdeau, Gloria Nakamura and Laura Schneider
All events at Palisades Branch Library Community Room
861 Alma Real Drive, Pacific Palisades, CA 90272
---
Past Library Programs:
CHILDREN'S SUMMER WRITING CONTEST
WINNERS 2019

Scribblers (Gr 1 & 2)

1st Place - Finding His Way Home by Hudson Marks (Marquez)

Jotters (Gr 3 & 4)

1st Place - Red, What and Blue by Riley Keston (Marquez)
2nd Place - The New Girl in the Palisades by Alexis Levine (Brentwood)
3rd Place - The Great Big Science Project by Noah Benharash (Palisades)

Honorable Mentions

Behind the Scenes at Inceville by Olive Boog (Marquez)
The Great Treasure Hunt by Gabe Smith (Canyon)

Scrawlers (Gr 5 & 6)

1st Place - From the Mountains to the Sea: A Swallow's Story by Audrey Smith (Paul Revere)
2nd Place - What Lurks Beneath...Palisades Village by James Marks (Marquez)

Scribes (Gr 7 & 8)

1st Place - The Adventures of Pearl Dragon by Parker Keston (Archer)
2nd Place - Truesky by Ellery Preven (Paul Revere)

Authors (High School)

1st Place Tie - Palisades 1542 by Sydney Forrester (Windward)
1st Place Tie - Taking Steps on Sunset by Maya Doyle (Harvard-Westlake)



---

Ongoing Library Programs:
BABY AND TODDLER STORYTIME Due to the structure of this storytime, please show courtesy by being on time! Lap-sit (or not!) storytime for babies and toddlers and their grown-ups to share together. One child, one lap, please. For ages under 36 months.

FAMILY STORYTIME Suggested for ages 3 and up. Stories, fingerplays, rhymes: building reading skills while having fun!
MINDFULNESS MEDITATION Wednesdays from 6:00-6:30 p.m. starting June 26. We invite you to enjoy a pause in the day to refresh yourself by simply sitting and paying attention to your senses, thoughts and feelings. Learn about Mindfulness and how it may relieve stress in your life. Stay for 5 minutes or the entire 30-minute session. Presented by Natalie Bell, Mindful Wellness consultant.
MOVIES are shown at the Library on Saturdays twice a month at 1:00 p.m. Light refreshments will be provided. Please bring a sweater or jacket as the room can be cool!
ALL EVENTS ARE FREE TO THE PUBLIC. ADA ACCOMODATIONS UPON REQUEST. FOR MORE INFORMATION CALL 310-459-2754.
Please click on the link to the Los Angeles Public Library Palisades Branch website for upcoming library programs:

http://www.lapl.org/branches/Branch.php?bID=15