Palisades Branch Public Library
861 Alma Real Drive, Pacific Palisades, CA 90272
(310) 459-2754 telephone

Library Hours:
Mon: 10:00 AM - 8:00 PM
Tues: 12:00 PM - 8:00 PM
Weds: 10:00 AM - 8:00 PM
Thurs: 12:00 PM - 8:00 PM
Fri: 9:30 AM - 5:30 PM
Sat: 9:30 AM - 5:30 PM
Sun: Closed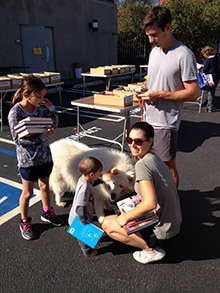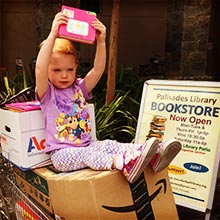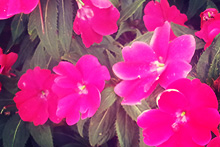 Bookstore
The bookstore is located on the small patio adjacent to the magazine section in the rear right of the library. In addition to selling gently used hardbacks and paperbacks in fiction, nonfiction and children's categories, the store features a modest inventory of DVD's, music and books on CD and 'Special' books. Inventory is added to the store on an ongoing basis.
The patio bookstore is open subject to volunteer availability. Watch for the open sign at the library entrance or call (310) 459-2754 to confirm that the bookstore is open.
All proceeds from the bookstore are used to enhance the library collection, support programming, purchase supplies and equipment, and provide support for other branches.
Book Donations
We are not currently conducting regular parking lot book sales or accepting book donations. The Mar Vista branch of the Los Angeles Public Library system welcomes your donations. For further information, please call (310) 390-3454.